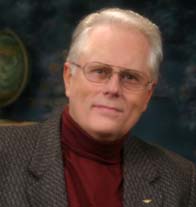 Larry grew up in the foothills of Studio City, California, as the son of an inventive genius who introduced him to multiple ways of perceiving any sensed experience…rather than only reacting to input and opportunities. Thomas A. Stevens [see Chapter Two excerpt, "Saucer in the Hills," from Table of Contents] was a trouble-shooting expert in experimental aircraft design/flight-test work, assigned to Kelly Johnson and Lockheed Aircraft's infamous "Skunk Works," in Burbank, California. The senior Stevens had a favorite saying...one Larry was gifted to hear often during his insatiably curious and sometimes precipitous childhood: "What you don't have in your head, son, you must have in your feet or your pocketbook."
Emulating his father's interest in aviation, Larry applied for and was accepted into the U.S. Navy's intensive 18 to 20-month flight training (NAVCAD) program, September of 1963. He received his commission as Ensign and the coveted Wings of Gold on the 5th of May, 1965. During the next three plus years, while repetitively flying into and from the many South Vietnamese airfields, Larry encountered multiple paranormal-like interventions that while life-extending, defied any rational explanation. Later, after an equal number of years as a pilot for Western Airlines®, Larry continued on what became a thirty-year quest to uncover the mysteries of the extraordinary, or miraculous. This examination included a short stint as reserve UFO investigator for the well-respected Aerial Phenomenon Research Organization (APRO), based in Tucson, Arizona.
Larry's relentless prodding into what some refer to as the "Supernatural," intensified a metaphysical calling. This eventually led, in 1998, to ordainment as a Science of Mind & Spirit minister, along with an invitation to join an avant-garde discipline combining the philosophical but secular oriented Holographic Psychology (HP), with the transpersonal aspects of Science of Spirit. SOS, which is HP with a transcendent inclusion, embraces all the psychological and mystery schools in its cooperative facilitation. A primary focus of this foremost, California-based empowerment group is to observe and chart the relationship between a person's motivated interest, inherent talents (within the personality matrix), and what is theorized as Spiritual-realm DNA.
Larry is primarily involved with field testing the involutionary properties and stages of human freewill, gratitude, allowance, and appreciation...a "State of Grace" within the sacred community. Larry's practice includes presentation of a self-actualized, multi-sensory method to help expand one's reality/awareness levels and synchronicity (luck) quotient. By using contemplative attunements and directed visualization, awakening persons can generally enhance their neutral observation (remote viewing) capability...allowing then for internalized, quality-of-life replacement for non-serving thoughts, feelings, and those sabotaging habit-patterns often associated with the inner-mental critic. HP team members call this neutral refereeing capability "LOCATION of COMPREHENSION."
While also volunteering as a Community Coordinator for the Institute of Noetic Sciences (NorCo IONS), Rev. Larry maintains a Spiritual Coaching (Quantum HEART-shift) practice.
Blending an open-ended (non-dogmatic) scientific and spiritual perspective, Larry dedicates his life to the purpose of helping others wake up to their wholeness and preexisting potential. "Heaven on Earth exists now," says Larry. "Acceptance-by-degree is our vehicle to unlimited love, inclusive harmony, and joyous abundance." And so it is!